Asshole shit! I overslept today.
Woke up at 5pm++
Reached home like 4 in the morning..
Didn't go to my grandma's house!
Damn it no ang bao already laaaaaaa..
Oh ya! It's 25th Feburary My blog
one year anniversary
!!
Let me blog about yesterday first..
It's gonna be a long entry.
I was looking for my clothes.. And dunno what to wear..
End up wearing some formal top and a jeans with a belt..
See me wearing formal before ? haha
Before I went out, my aunt came.. YAY got angbao!
Went down to church with Sje Ting..
Cam whoreing in the cab.. ahaha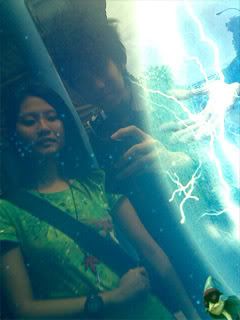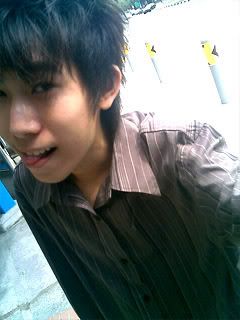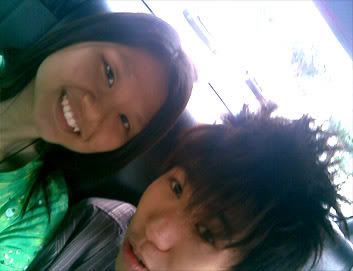 Met everyone there..
My shirt was a little too short.. Pants a little bit too low..
So my boxer was shown.. HAHA everyone was like.....
'your boxer la..'but I'm alright with it laaaaaaaa =.=
Boxer only what also not penis or ass hole.
Service was sooooooo long that day.
Some Taiwan singer came to our service..
And sang the song "cai hong tai tang"
Everyone started to took out their phone.
Use the keypad light to swing left and right..
Service took so long because of them!!
Dunno why people just likes to nag at me.
Go fucking use your teddy bear or something to nag la..
Ahaha then the after service..
Soo Ee brought Sje Ting and I to some place at Common Wealth to had Reunion dinner.
With a lot people tat I dunno..
The food there are really good. Two thumbs up!!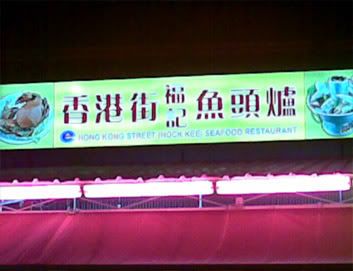 There's this mosquito on the table near my food.
Sje Ting: point at the mosquito
ME: WTF?!
Sje Ting: Go fuck lor..
both of us: laugh laugh laugh..
after dinner Soo Ee drove Melissa's niece back home..
Next to her house there's this huanted place..
So I was like yay wan go in?
We started talking about those scary things that we encounter.
Melissa told all of us that she saw SOMETHING squalting at the corner. And bloody hell my hair
stand la
! Because...
That day I went OCH I saw something squalting at the corner too.
After that,
Soo Ee drove Causeway Point..
Caught a midnight show with Hui Hsien and Sje Ting.
She booked the tickets online..
So we no need to worry about the seats :D
After we collected our tickets.
Sje Ting was looking kinda weird la..
So I asked her what happened..
She told me that she saw something outside the huanted place gate.
Before Soo Ee told us that the place is huanted..
After that she was so scared.. Didn't tell anyone about it..
Hui Hsien came and cool Sje Ting down..
We watched "Just Follow Law".
The show simply hilarious!!
Luaghing non stop la.
Keep kicking the sit in front of me HAHAH!!
And the small kid siting on my left......
Check out
www.laozhabor.blogspot.com
!
Thers really such blog!
The show ends at 2.15am.. Went for supper.
Saw Alistair at the coffee shop. Talk and slack there.
Walk back to Sje Ting's house..
Sat at the voick deck.. Talk again..
They can really talk alot..
But it's fun talking to them..
Walk back home with Hui Hsien..
As she stayed next to my blk.
Reached home like 4am..
Didn't bathe just changed and sleepppppppp. :)